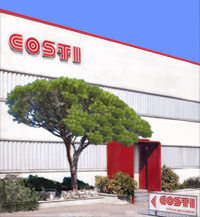 Costi Automazioni Industriali
borns at 70's;
After over fourty years present in the handling and robotized system sector, Costi Automazioni Industriali occupies a position of primary importance in the design of complete automatic systems.
Costi Automazioni Industriali
produces itself a large range of palletizing robot lines with the most up to date technology available on the industrial market.
Now more than ever, to respond even more fittingly to customer's, the robotized systems have to:
handle different types of products simultaneously;

to manage continuous changes product and changes lot in complete automatism;

being a knot of transit and elaboration of the productive and business data;

to be connected online with the business computer system

Costi Automazioni Industriali
is able to offer all this with their automated systems "turnkey" where the robot, while being very important, is no longer the predominant part.